Storm Damage
Has your property been affected by a recent storm, leaving behind damaged and hazardous trees? Don't let the aftermath of a storm burden you any longer. Our professional storm damage tree services in Atlanta are here to help you restore safety, beauty, and peace of mind. With our expertise and swift response, we will efficiently address the tree-related challenges caused by the storm.
Severe storms can wreak havoc on trees, resulting in a range of issues. Fallen trees or broken branches pose immediate risks to people, structures, and utility lines. Damaged trees can also become weak and unstable, posing long-term threats to your property's safety. Additionally, debris scattered across your yard can hinder access and impede the restoration process.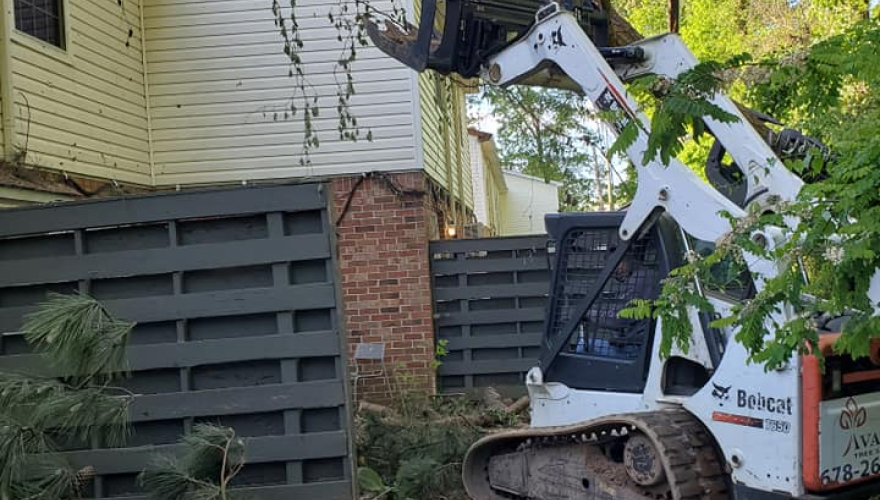 Our Solution
We offer comprehensive storm damage tree services designed to address your specific needs and restore your property to its former glory. Here's why our services stand out:
Emergency Response: We understand that storm damage requires urgent attention. Our team is available 24/7 and equipped to respond promptly to assess the situation, prioritize safety, and mitigate further damage.
Skilled Arborists: Our team consists of highly skilled and experienced arborists who specialize in storm damage assessment and tree care. They will evaluate each tree's condition, recommend appropriate solutions, and execute the necessary actions to ensure safety and restoration.
Safe Tree Removal: When a tree is beyond repair or poses an imminent threat, our experts will safely remove it using advanced equipment and techniques. We prioritize safety, minimizing the risks associated with tree removal and ensuring the protection of surrounding structures and vegetation.
Tree Trimming and Pruning: We'll carefully trim and prune damaged trees to promote their health, stability, and regrowth. By removing broken or weak branches, we reduce the risk of further damage during future storms.
Debris Cleanup: Our team will efficiently clear and remove fallen branches, leaves, and other debris cluttering your property. We'll ensure thorough cleanup, allowing for a smooth and safe restoration process.
Speak With Avalon Tree Experts Today!
Don't let tree stumps hinder the beauty and functionality of your Atlanta property any longer. Contact us today to schedule our professional stump grinding services. Our team will provide you with a free estimate, answer any questions you may have, and ensure a hassle-free stump removal process. Trust us to transform your yard into a pristine outdoor space you can truly enjoy.